Railroad Pictures


The 2472 Pulling the 1995 Santa Shopper's Special, San Jose, Ca. The 2472 is an ex-Southern Pacific P-8 4-6-2 Pacific locomotive. After sitting on the San Mateo County fairgrounds for 37 years, it was restored to operating condition. It runs on the Cal Train tracks on special occasions. 2472 has been running since May, 1991.
---


SP MW221 is an ALCo (Cooke) Rotary Snow Plow used for clearing the heaviest snow covering the tracks over Southern Pacific's Donner Pass tracks. This is a Leslie-type plow, built in 1922. Taken 4/96 at (then) SP's Roseville, Ca. yard.
---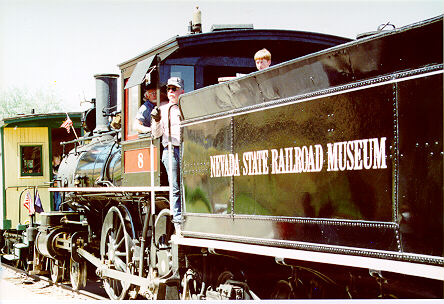 Nevada State Railroad Museum No.8, an 1888 Cooke 4-4-0 American. The locomotive is in operating condition (and doing so in this picture). Picture was taken July 4th, 1995.
---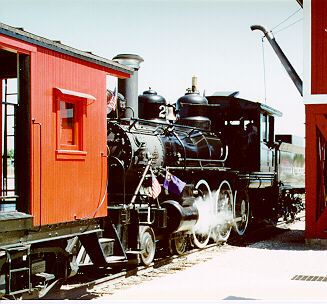 Nevada State Railroad Museum No.25, a 1905 Baldwin 2-8-0 Consolidation ready to take on water. It is operating with No.8 on the day the picture was taken.
---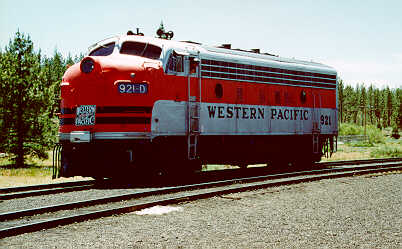 Ex-Western Pacific 921D, a F7A at the Portola Railroad Museum, Portola, Ca. This train used to pull the California Zephyr. Taken 4/6/95.
---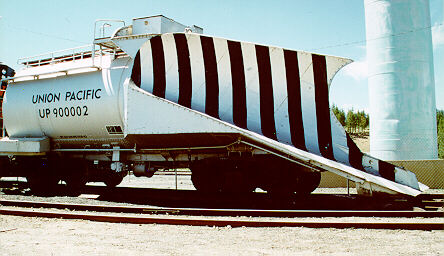 A Union Pacific snow plow at the Portola Railroad Museum.
---
Rail
1| 2| 2a| 3| 4| 5| 6| 7| 8
Home | Radio | Military | Travel | Santa Cruz