The KGB Sentinel Archives

June 1998 to July 1998
THIS PAGE MAY TAKE SEVERAL MINUTES TO LOAD

HEADLINES for July 18-26th, 1998
All KGB Guild Buildings pronounced unsafe
GM JetStar defeated as keys fall into enemy hands
An article by JetStar, KGB GuildMaster
Jacx and Gorn of the Suicide Squad, SS Guild cut a deal with JetStar after having his keys looted by them, they returned the keys for 10000. A server crash then gave them time to dupe them. They took the 10000 and duped the keys, now have looted the KGB Tower and wiped the GM's supplies.
Lets show them what the KGB can do... For each SS death the GuildMaster has offered a KGB Service Medal and Gorn or Jacx the Distinguished Service Cross...
Avenge your HQ tower!!
---
The End of an Era
Many of KGB's Paladins and Veteran members retire
An Editorial Retrospect by JetStar, KGB GuildMaster
In the beginning, we were young and the world was new. It was exciting to explore and to learn the ways of the world. We all found that the world was in chaos. Murderers ruled the world, and evil went unpunished.
The KGB quickly made a name for itself. Evil learned to respect our members and their skill. This reputation was largely created by our veterans. They have all done more than their share and sacrificed everything for the Guild and its members. They must now depart to pursue other goals and retire from UO. Let us now take time to recognize the accomplishments of our departing members. They are still with us in spirit and in words.
Retiring July 20th:
Brother Annul
Brother Sto
Brother Aror
Brother Havok
Sir DarkGuard
---
HEADLINES for July 12th, 1998
GuildMaster Selects New GSSM
KGB Vet Speedy takes over as the new Minister of the KGB Guild Secret Service
Report by JetStar, KGB GuildMaster
Speedy is a long time member of the KGB and becomes the Guilds second GSSM. Expect to see a revitalized GSS as the GuildMaster has authorized 8 full time agents along with the KGB's complement of volunteer and counter intelligence members.
---
GuildMaster Selects KGB's 3rd High Council
New positions and CKGB force HC changes
Report by JetStar, KGB GuildMaster
Based on the changes brought about by the formation of the CKGB, and the position left vacant by former HC member DarkGuard, I have selected KGB's 3rd High Council roster per Article 1, Section 2, Clause 1 of the KGB Constitution. The new council will consist of 8 full time members. The executive branch has changed also. All Ministers (except the Minister of the KGB GSS) will now serve on the council. The KGB treasurer is now considered the Minister of the KGB Treasury. The newly formed CKGB has a Executive Minister also (The Minister of the CKGB [MCKGB]).
Introducing the 3rd KGB High Council
KGB High Council

Council Coat of Arms
Chairman of the KGB High Council: General Helmholtz
After talking to General Helmholtz in depth, he has chosen to leave the KGB military and take the CHC position for an unprecedented second time. Chairman Helmholtz is an experienced in running the KGB HC and we welcome him to his new position.
Prime Minister: Sir Thorn Wolfbane
KGB's second in command is returning for his third term in the KGB High Council.
Minister of the KGB Treasury: Sir Arginal
Sir Arginal served as an alternate in KGB's 2nd council and is returning as a full time council member based on his new position as (MOT).
Minister of the CKGB and HC Sergeant at Arms: Katrina
Katrina served as chair of the 2nd High Council. She did a wonderful job and brought you things like the KGB meeting hall. Her talents are needed to help create an run the new CKGB. Katrina will serve as the HC Sergeant at Arms and as a full time council member.
Foreign Minister: Randal Floyd
KGB's Foreign Minister is returning for his second term on the KGB HC.
KGB Warlord: General Ardath
KGB's Military Commander is returning for his third term in the KGB High Council.
General Nathan Rahl
KGB's second in command is returning for his second term in the KGB High Council.
Supreme Knight Psycho
The rookie in the 3rd Council, Psycho left the order of the Paladins to serve on the High Council. Welcome Psycho!.
---
HEADLINES for July 10th, 1998
Changing of the Guard
Sir DarkGuard resigns from KGB High Council
Report by JetStar, KGB GuildMaster
DarkGuard has been involved with the High Council since its formation in January of 1998. After 6 months of service he has decided to leave. Known for his conservative views, DarkGuard made a name for himself in the council by adhearing to KGB's moral code and defending the rights of KGB's membership. KGB GuildMaster JetStar had this to say, "I think back on much of the advice that Dark has given me in the past, and he has been right on the nose. I sometimes steer the KGB in the wrong direction, against his advice. He is very wise and we will miss his presence on the Council".
GuildMaster JetStar awarded DarkGuard with the GuildMasters Golden Cross for his service. He was also awarded a second High Council Service Medal. Lets all take time to thank DarkGuard for his service to the KGB and helping to build the guild into what it is today and what it will be tomorrow....

KGB High Council Coat of Arms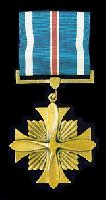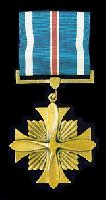 The KGB GuildMasters Golden Cross
This Medal is bestowed on an individual by the GuildMaster himself. It is a way for the top ranking officer to recognize individuals for exemplary service to him and to the Guild.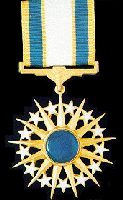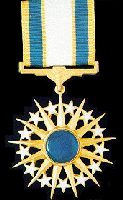 The KGB High Council Guild Service Medal
This Medal is the KGB's highest non-military honor. It is bestowed on an individual by proposition and vote by the KGB High Council. This is a way for the KGB High Council to recognized the contributions and services other than military. This award may be presented to individuals outside of the KGB or to an entire guild.
---
JetStar Meets GM Wile E
Game Master intervenes to right the wrongs of Counselor Nether
Report by JetStar, KGB GuildMaster
KGB GuildMaster JetStar met with GameMaster Wile_El today to close the Counselor Nether matter once and for all. Wile_E was very nice and it was quite a site to see a GameMaster is action. All properties have been replaced and OSI's debt to the KGB has been paid! The entire Counselor Nether incident is chronicled in the KGB Sentinel Archives from July 1, 1998.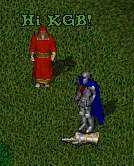 GameMaster Wile_E with GuildMaster JetStar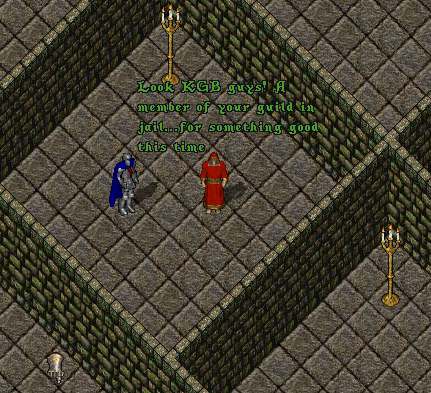 JetStar goes to jail again (Just Visiting)
The picture below is the last of the original KGB HeadQuarters in Britain. Originally donated by Brother Atticus in December of 1997, it served as KGB's primary meeting and storage location until the current HeadQuarters tower was purchased and placed in February of 1998. The following picture was taken seconds before the destruction of the tower.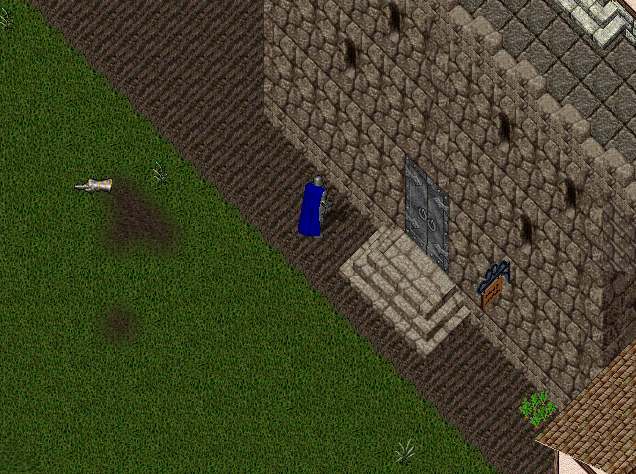 This next picture was taken just after the tower was demolished. The original KGB HeadQuarters now is in deed for and in the possession of KGB GuildMaster JetStar.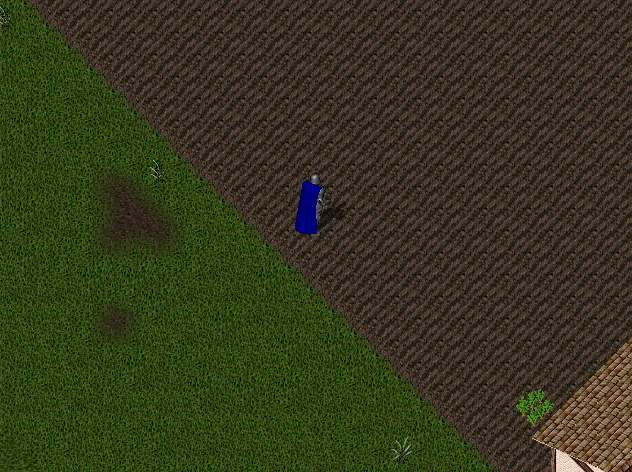 Special Thanks to GM Wile_E and OSI for assisting us after being wronged by the renegade Counselor.
---
HEADLINES for July 6th, 1998
KGB Returns to its Beginnings
Guild Hunts (Monsters and Murderers), Team Events and a new dedication to the economic side of the guild (CKGB)
Report by JetStar, KGB GuildMaster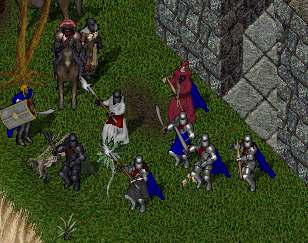 KGB Members come together for groups events, much like when the guild first formed. Many KGB members have commented on the sense of relief since leaving the PGC. One members commented "I dont have to walk around paranoid im going to be jumped by 15 cheaters". Veteran members are coming back to enjoy a sense of camaraderie not felt since the early days.
GuildMaster JetStar said today, " Lets focus on hunting the murderers in the land like we used to. Our original purpose was to punish those who kill innocents, not fight endless battles just to be fighting. We are about an idea, and now we are back to doing what we do best.". GuildMaster JetStar also called on all members to find a candidate and train and sponsor them into the KGB. Now that we stand alone we will need greater numbers. We will be focusing military recruitment on persons with PvP experience or players that are mature and can be train in such arts.
New proposals are being written by several members of KGB focusing on the new CKGB division. Using the KGB Military as defense and the organization and purpose of the KGB as a back drop, the CKGB will be a safe haven for craftsman and women to use their skills to create goods and wealth. Keep you eyes open for these important proposals. A new membership drive will begin aimed at the crafts people of Pacific with a KGB Player run General Store and Tavern. If you have any questions or comments or ideas for the CKGB, contact GuildMaster JetStar.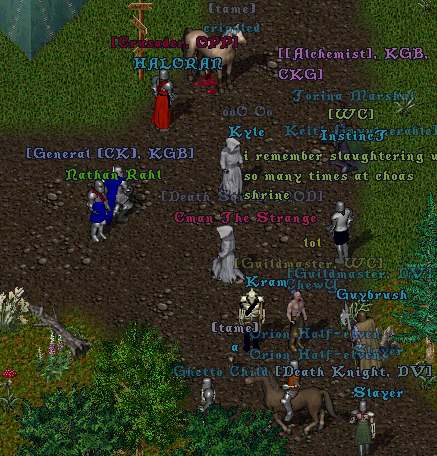 KGB's surprise assault on Murderers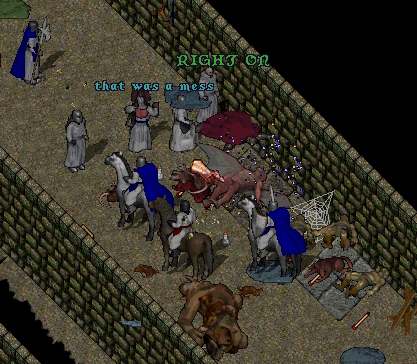 KGB Cleans out Hyloths huge spawns
---
KGB Honors Brother Psycho
Report by JetStar, KGB GuildMaster
After countless hours of training and countless gold donated to the cause, Brother Psycho and his sister Torina were granted with the following awards: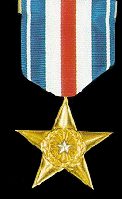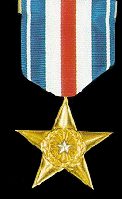 The KGB Silver Star
The Medal is the Military's highest honor. It is bestowed on an individual by the CIC in conjunction with the commanding General. It is a way for the Military to recognize a soldiers uncommon valor and effectiveness in a COMBAT situation.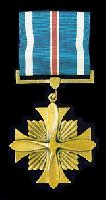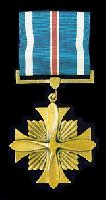 The KGB GuildMasters Golden Cross
This Medal is bestowed on an individual by the GuildMaster himself. It is a way for the top ranking officer to recognize individuals for exemplary service to him and to the Guild.
---
KGB's Doomed Final Hunt With PGC
Report by JetStar, KGB GuildMaster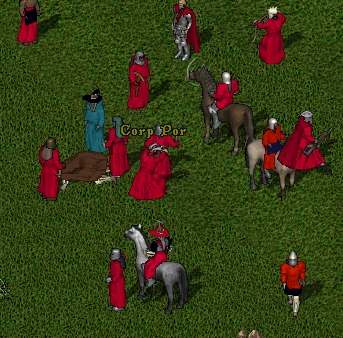 Red was the agreed color as I joined a party of about 40 PGC members on a sweep of Britannia. Made up of members from all the PGC guilds and a guest alliance called SM we set out to clear the lands and dungeons of our enemies. Little did I know I was headed to disaster. It the picture to the left you can see a unlucky murderer that recalled right in the middle of our preparations and was quickly vanquished.
We gated into Deceit and attacked. As usual the notorious bug users from DIA Deramon and Lord Scotty were near the bridge on the second level. Armed with their latest exploit (The Rapid Fire Bug) they are able to launch offensive spells without delay. Being a "Favorite" target I was killed twice by these cheaters. The worst part was yet to come. Surrounded by PGC and SM dressed in red, I was looted dry on both occasions. Looted by my own brothers.
The two cheaters easily ran around the group picking off who they pleased as red uniforms ran around wildly with no organization or purpose. It was this mission that prompted my initial address to reconsider our membership in PGC. Less than 24 hours later, at 1:00am on July 5th, 1998, KGB formally withdrew from PGC. It has also come to my attention that GVH, Guardians of Virtue and Honor have left also.
KGB will continue to enforce its morals and defend innocents in our world of Pacific. The same ideals formulated by the founders of the PGC, Myself, FK, and Casca. To FK wherever you are, I promise I did all I could and sacrificed many lives to preserve our coalition. The KGB retains its alliances with its former PGC brother guilds.
---
HEADLINES for July 5th, 1998
KGB Leaves PGC
The KGB departs the great alliance on good terms
Report by JetStar, KGB GuildMaster
The Knights of Glory and Beer and the Pacific Guild Coalition went their separate ways this morning at 1:00am. The PGC will continue on its quest and we here at KGB wish them the best of luck. This will be an opportunity for the KGB to return to its roots. I know all the members of the KGB would like to see it as strong as it once was. All KGB members should resign from the PGC stone as soon as possible. The original KGB GuildStone will be reactivated shortly.
Best of luck to our allies, X-Lords, CSKY, and GVH as they continue down the troubled path of the PGC.
All KGB members should read the Meeting Hall message boards for current information. All Guild War activities have been suspended while we reorganize.
---
HEADLINES for July 3rd, 1998
The Sodalitis start a new Craze
The Britain Cock Fights!
Report by Sir Thorn WolfBane, KGB Prime Minister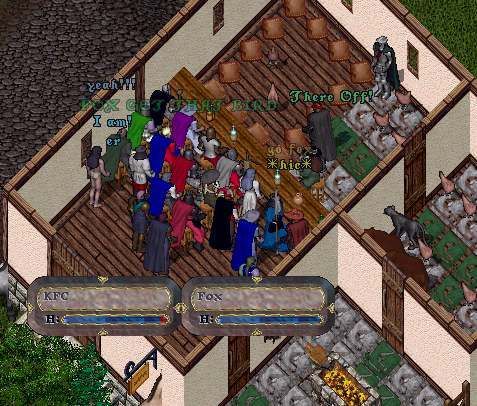 As I entered the smokey forge I did not know what to expect, there was an air of excitement in the room that I had never seen before. Citizens, guards and guild members piled into the forge to take place in a new form of entertainment that has entered our lands from the East. I approached the betting counter and placed a 100 gp of hard earned money on the table. The gentlemen asked me to pick a Chicken that I thought you would win the fight. After observing their mannerisms I picked the graceful warrior chicken "Champ". After bets were closed a secret blessing is placed upon the (2) combatants and then they begin to fight. It was over in less then a minute, Champ had demolished his opponent. A bit of confusion took place as people tried to figure out how to collect their winnings but the Sodalitis were well organized and began calling names. Before I knew it I was 100 gp richer. There is a new form of money making that has entered the lands of Britannia. It gives the promise of making huge amount of money in less then an hour if you have the gift for choosing a winner. This new entertainment is called "Gambling" and it has taken form at the large forge of the Sodalitis in Britain, east of the 2nd bank. I would encourage everyone too partake in these events, it is truly one of the most entertaining things Ive seen in UO in sometime. Other animals fight at these contests as well such as Great Cats, Bears, etc. If your looking for a way to double your money then this just might be the way. I must say that the Sodalitis have produced a wonderful event that in the two evenings that I have attended have been well organized and are drawing huge crowds. I can only hope that this become a regular event in Britain. I would rate the Fights of Britain "* * * * *", so if you got the heart for it, buy some popcorn, grab alot of beer and bring your money!
The Sodalitis hold the fights nightly in the forge directly below the Eastern Britain Bank (B2).
---
The War Rages On
Big Threats from DIA and The Fallen Lords
Report by JetStar, KGB GuildMaster
The battles continue night after night. Large groups of PGC and DIA clash in cities and in Deceit. Deceit seems to be a stronghold for the DIA. KGB intelligence received the following messages via the ICQ oracle:
Lord Dracus Wrote:
This is an Order
Use anymeans to kill
Loot
and Destroy the Lame ass Xlords
Use bugs even dont give a shit anymore

Lord Dracus Wrote:
i want Xlords run into the Ground
Seige houses
Towers what ever
belay the bug use
but Drive em into hell

We should take this as a warning that our enemies plan to play dirty. I see this as frustration that the War is going the way of PGC. Keep up the pressure mates! If we are persistent, we will be victorious!
---
HEADLINES for July 1st, 1998
Changing of the Guard in KGB
A changing world causes KGB to lose 7 members in June.
Report by JetStar, KGB GuildMaster
Once again the gods of our virtual world have made major changes in how we operate and how Evil is perceived. This has caused instability in our land (Crashing and Time Warping). For many who have endured the maturing of our world were simply pushed over the edge by the recent changes. All of us have watched good friends bid us farewell and have either left the Guild or the virtual world itself. I share the feelings of lose and wish our departing members the best of luck.
It is important for us to embrace our new members and assist them in any way we can. It is time for the remaining veterans to rise up and help us win the multiple Wars we are now trapped in. The KGB needs each and everyone of you to survive these troubled times and find the strength to win. Not just one War, but many. With all of our dedication and support the KGB will again be strong and may again single handedly put the forces of darkness in check.
---
HEADLINES for June 23rd, 1998
PGC Battle Victory
The PGC scores first decisive victory on the battle field
Report by PGC Members
KGB GuildMaster JetStar:
I had the pleasure of leading a group of PGC soldiers on a very effective search and destroy mission. Starting by defending the Nujelm Bank, then heading to the Dungeon of Deciet, and finally our most decisive victory at the Fallen Lords GuildStone. The PGC managed to to rack up 14 Enemy casualties with 3 PGC casualties. Several members of the S&D team sent in accounts and pictures of the nights events. I must say that the tides of war are changing. I am amused to hear former Dread Lords who regularly gang raped innocents now talking about honor and virtues. It seems our enemy does not like to have their own tactics used against them. In a recent arguement with the Fallen Lords Jyrath I said, "War is not a duel. Superior numbers are the key. The word attrition best describes the PGC's war tactics....War is hell my friend....I love to hear former PKers and the murderers of innocents talking about honor and virtues. I have been attacked by myself by large groups. Now that it is the other way around, all you can do is bitch....Take it like a man, like all of us did when you guys were gang murdering us!" I hope you will take the time to review the accounts from our heroic PGC members! Well done all.
* Any KGB member present for this operation may apply for the KGB Service Medal offered by GM JetStar, please send E-Mail *
Nujelm Bank, and Deciet
Report by KGB Member Amregeddon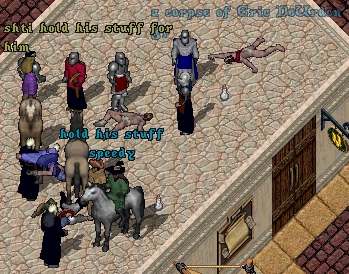 The night was cool and brisk and a sudden adrenaline rush began to build as I polished my war hammer and readied my equipment. It was my first night as a member of the PGC guild and the anticipation was strong within me. I had deceided to join this Honorable Guild after seeing the evil that was ravaging my home lands and the once populated world of Britannia was becoming dark with the shadows of evil. I began training as a warrior at a very young age, as my father was a town guard. He trained me personally until I reached the age of adult hood and began to earn my own keep as a Adventurer.
During this time I met many brave and wonderous warriors and mages. Through these encounters I picked up a few tricks of the trade and began to learn methods of defence and offense. My training had to be quick and strong to prepare me for the encounters I would face. My lands to the north were burned and my family all but killed by ravaging guilds known as the Care Bears and Fallen Lords. It was then that I took my name Armaggedon as a constant reminder of the damages they placed upon me. With this name I have sworn to destroy the very land they stand upon, hence the definition of my name. It was only a matter of time before I found the PGC guild which stands for all of the morals and codes that I hold dear.
The night sky finally darkened and within minutes the evil approached from the North West. A series of Fallen Lord warrior entered the town of Jhelom. They fought with great strength but could not match the combined power of the PGC forces. Within minutes the first battle was over. A total of four FL's laid dead upon the Jhelom bank. I had the honor of personally killing Zooted and claimed my prize. The night had only begun....about an hour later a scouting party appeared with magical properties and within seconds (2) of them laid dead upon the ground.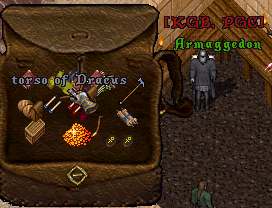 My new Guild Master JetStar after surveying the area requested a PGC sweep of the dungeon Deceit. I immediately answered his call and after our forces gathered a powerful gate was created that instantly transported us into the evil dungeon. We searched in the usual places that one expects to find evil and we were rewarded quickly with a Care Bear kill. It was some time after this that our next encounter would arise. I was standing in what is known as the Skeleton Room with several PGC members when a Dark Figure appeared from a transporter. I quickly recognized the face and drew my mighty Bow with all the power I could gather. It was the nemesis of my lord JetStar, it was the evil one Dracus. I do not know if it was terror the froze Dracus in his place or if it was just the sheer power of the PGC that through him from his evil plan, but within 5 seconds he laid dead upon the floor. A great cheer arose as his corpse was cut up and divided amongst the participants. I was given the torso as my prize for helping to take the life of the evil one.
When, the night had given way to dusk I returned with members from the PGC to Nujelm where we seperated and went our own ways. It was truly a memorable first night and I thank all of the brave Knights and Mages that helped make it sucessful. A total of eight kills were recorded that night, with one belonging to me personally. I look forward to many more nights such as this one.
To honor, To victory, To KGB, PGC!
The Fallen Lords HeadQuarters
Report by KGB Warlord Ardath with Pictures from KGB Knight Sir Darius and additional comment from CSKY Regent Bucky
Another daring raid against the Fallen Lords went fantastically, due in part by Bucky-BSH valliant effort to run into their territory and mark a rune. Aror had recovered a rune deep into fallen territory. Worried that the attack would fail since the rune was in the middle of a large group of the fallen, Bucky risked life and limb to recall in and mark a rune in a better area. Although badly injured Bucky escaped with a fresh rune and moments later a gate was opened and the PGC poured through. Coming through the gate, Ardath took heavy fire from several fallen. Fortunately, a ready supply of potions bought him enough time for the rest of the forces to come through. Fighting was fast and furious but at the end, five fallen were down and no members of the PGC were slain. Jetstar closed in battle with Jubei and a short time later, only JetSstar was standing. Killed in the attack were Jubei, Retribution, Conan, Zooted, and Tony. The PGC provided a gate to help ressurect the members of the Fallen who were slain and then left the scene victorious. JetStar ordered that a service medal be awarded to all KGB participants in the attack.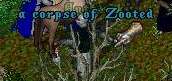 123

123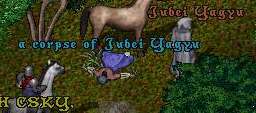 The united force of PGC swept through the Fallen Lords at their guildstone and annhilated all their members who were present there. PGC took no casualities. The traitor Fallen's who were killed at that place were: Jubei Yagyu, Zooted, SULTAN, Retribution, TONY, and Conan. Their leader, the evil Dracus, was already dead from Deceit, so no actions were taken towards him.
The Fallen Lords seem to take advantage of the dungeon Deceit's peculiar land formation, but in a regular field combat, their power seems to lessen. But it was truly the cooperation of all the members of PGC that lead to this victory. We healed, RA'ed, attacked the same enemy...acting as one united team!! At the end, all the orange colored ghosts were ressurected, showing the real sportsmanship on our side. Personally, I thought this was an awesome battle!
On the side note, the server crash+rollback that had taken place around the same time the day before and 2 days before did not happen this time...so the casualities on the Fallen Lords were for real. (We pretty much were lucky when we lost to them the night before, but the server crashed and rolled back to before the battle!!) They won the practice battle, but we won the real one.
Good job, PGC!!!
---
Early Disorganization Causes Many PGC Casualties
KGB Soldiers describe carnage and ways to stop it
Report by Mantis, CAV1-K KGB, Edited by Kristible, CAV1-K KGB
After many trips to many wars with many different enemies, both PC and Monster, I have noticed a flaw in the KGB attack forces strategy. I have (as most PGC) died many, many times. We all have watched (as a helpless ghost) as our bodies get looted by some lame blue innocent who runs of with our full set of magic plate. Last trip to deceit a cunning Care Bear trap me with 2 energy fields and a EV. Some of the PGC warriors were in the area, but I was unable to flee from the EV in time and I fell to it. Sadly ALL the PGC warriors (KGB, X-Lords and Csky were all present on this run) ran by my corpse and left it for the Looter Nero to rape. My wife Kristible , KGB Knight, did her best to grab my stuff, but alas I lost all my regs (about 25-30 of each) to Nero. This would not have been a problem if the PGC warriors had stayed behind to watch my body. Looters get the criminal flag, the PGC could have killed him and gotten my stuff back. I use this as an example only. All of us have suffered loses due to similar events. If not that , then what of the less fortunate people that get lagged behind the group to get picked off , alone? I have a cable modem so I don't have that problem, but I know warriors that do. In any given run, about ½ the deaths are senseless mistakes. I have died a few times this week, and only once was due to an enemy's well-planed attack; the rest were due to lack of a decent battle plan. When we travel we need to break down into groups 4-6 and those groups need to stick together. This way if one falls the others can loot his body and res him. Or if ones is lagging or crashed, the rest can guard him till it passes. We had at least 15 ppl on the last run, and never found a group of more than 3-4 of the enemy at once. We still lost men to lag/lack of heals/etc. I call for a re-organization of our attacks. Move in groups of 4-6 that no matter what stick together to death or victory or both. Large groups just don't work on a server that can not even handle spawning a decent number of monsters to fight. Lets take a lesson form real life armies and break down to squad sized attack forces, that work together for a common victory!
PGC is very strong. We can win this war, if we use our heads!
---
AWARDS
KGB Members and Officers recognized for exemplary service to the Guild
Please note! There are some of you that may be expecting awards that have not been published. Please E-Mail your requests only! ICQ's get overlooked too easy! E-Mail Please!
Brother Sto, Paladin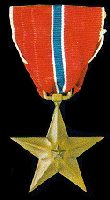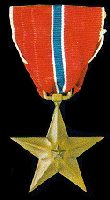 Order of the KGB Award
Ardath, KGB Warlord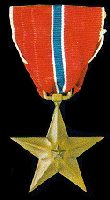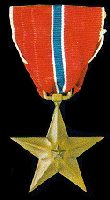 Order of the KGB Award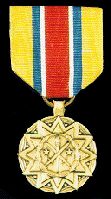 Guild Service Medal
JetStar, KGB GuildMaster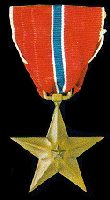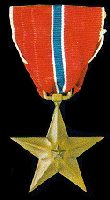 Order of the KGB Award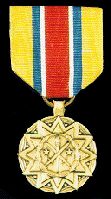 Guild Service Medal
Darius, Page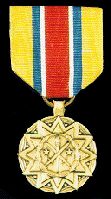 Guild Service Medal

Bucky, PGC, CSKY Regent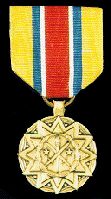 Honorary Guild Service Medal
---
HEADLINES for June 20th, 1998
State Of The Guild Address
Report by JetStar, GuildMaster
KGB Officers, PGC Members, Allies, and friends. I write this as I stand before the PGC GuildStone. As many of you are aware, we as a guild and a member of the PGC stand before the biggest challenge we have ever faced. You all know why we are here and what the KGB Stands for. You all have your reasons for joining. We are here to defend what is good and to protect innocents. We have all been at the losing end of a conflict, and we have all felt overwhelmed by the evil of this world. We came together to stand against that and to take the battle back to those who would take advantage of the less fortunate. We have all made our lives here honestly. The forces of evil have combined to try to stamp us out once and for all. The ultimate challenge so to speak. We have come to the point where we must prevail. KGB and the PGC carry with us the virtues and what is good in men. We are the only thing that stands in the way of evil domination of our world. The KGB has stood up against this threat in the past with a new level of organization and commitment. We have made a difference and have gained an image among the populous of a close knit group that takes our values very seriously. Many of you have defended these ideals first hand, and vanquished those who would tarnish our land with evil. The Masters of evil, such as Dracus, Yoda, and Chewy have used their power and influence to tarnish our name, to turn those who are weak minded against us. They have done this with a mastery I have never seen before. We have challenged these Masters of evil and have defended our name. I looked throughout the land, to find those who would stand for our principles. I found in a old friend from another world a similar view. When I pioneered the KGB in this land I was taken in by a old friend. FK and KS of the X-Lords where so much further down the path of success than I was. Slippery and I ventured to their tower in the first month of existence. FK took me in, remembered us as a strong faction in our home world and offered his assistance. I left the X-Lords tower with a new set of armor, a new motivation as to where we wanted to be. FK befriended his pet Drake to me and let me leave with this powerful beast at my side. Before anyone knew you could train a drake. C was his name and he went on to defend the KGB and its ideals for some time. He was killed in battle defending me. The X-Lords were and are a close knit group that rises beyond this world. I had hoped to achieve this with KGB and I am proud to report that I have. You are all my friends in this world and all others.
This Guild is based on defending the ideals we hold true, we pursue those who would promote evil, those who would hurt innocents, those who would do others what was done to us. We are here and remain in this group to make sure that noone is murdered, and or taken advantage of. This is our religion and our quest. Our job will never be complete as long as evil exists. We have all sworn our lives to this.
I am honored to see the return of KGB veterans that have sworn their lives to this and to the guild, our pride and to me. I am honored by the members who have stuck buy our group and our quest even when I have lead the guild astray. I am constantly honored by the respect you give your fellow members and the respect you show me on a daily basis. I salute you all and you all play a important part in the guilds structure. Those of you who fight for us, those of you who work for us, those of you that talk openly with me and help me to steer this great ship in the right direction. To my Executive Cabinet, you all do a wonderful job, all concerned for the guild's welfare before your own, to my Council Members, and the concern you show for the guild and its future and most of all the respect you show me. To the warriors and those who sacrifice their lives daily for the guild and its ideals, and to the general membership and our new members. It gives me a great sense of pride when you bow and say, "I am proud to be KGB and how can I best serve the guild". When I bow back to you it is out of pure respect for all of you, as this team is more than a GuildMaster could ask for.
Tonight, I was in a one on one battle with a member of the White Council. I saw him appear on N1 and out of instinct attacked, knowing I was carrying all of your pride on my shoulders. I prevailed! Let me tell you why. My Warlord saw me die and get looted, he went out and avenged me with some of our veterans. You provided my with a powerful sword to fight with. Psycho and his sister Tornia sat at N1 and poisoned weapons for every member of PGC that asked for it. Ardath who shadowed me hidden to ensure my safety and healed me in combat. I prevailed because of team work. I was not victorious, the KGB was, and when our allies join us, the PGC is victorious.
I tell you all this because we must as a group and as a team rise to defeat our enemies. We must find a new level of communication and organization which is our greatest asset. As a unit, the KGB and the PGC cannot be stopped. I had the pleasure to lead a multi PGC guild force. We swept the cities and Deciet. We were victorious, and could not be stopped. This is our strength. I have talked to many of you, and have spoke with some of you, and have seen our membership discouraged. I was forced to grant an honorable discharge to a member who was overwhelmed by the red tape. We must rise up as a single unit. You as an individual must thing in this manner. Used the communication tools to hook up with other members, travel in large groups. Don't take chances and be aware at all times. We must find a new level of motivation and dedication to overcome this most difficult task. All of evil is aligned against us. It is up to each and everyone of us do our part to see that our ideals prevail. We must become one. Join me in this fight, the ultimate battle of good against evil. I know you all will, and I trust each of you with my life..
To Glory, To Beer, and to Victory!
---
AWARDS
KGB Members and Officers recognized for exemplary service to the Guild
Please note! There are some of you that may be expecting awards that have not been published. Please E-Mail your requests only! ICQ's get overlooked too easy! E-Mail Please!
Brother Annul, Paladin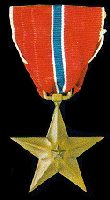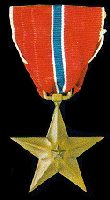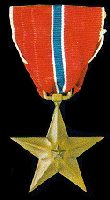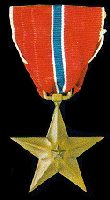 Order of the KGB Award
Brother Sto, Paladin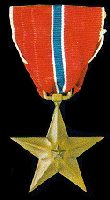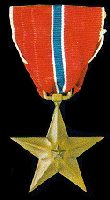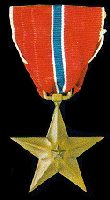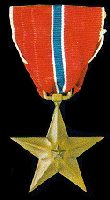 Order of the KGB Award
Raider, Knight Commander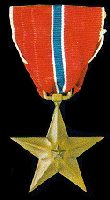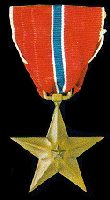 Order of the KGB Award
Brother Psycho, Knight Commander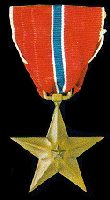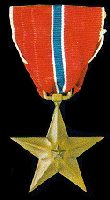 Order of the KGB Award

The KGB Distinguished Service Cross
The KGB Distinguished Service Cross was awarded for Psychos efforts to equip members of the PGC with superior weapons
Auriex, Page


The KGB Distinguished Service Cross
The KGB Distinguished Service Cross was awarded for bravery in battle over and above the call of duty
Kristible, Knight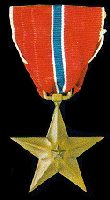 Order of the KGB Award
Mantis, Knight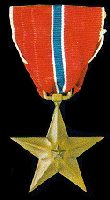 Order of the KGB Award
---
WAR With White Council and Fallen Lord
Initial combat reports paint a grim picture......
Report by JetStar, GuildMaster
The Fallen Lords and the White Council have declared war against the PGC. Please check the State of the KGB page for current updates. After agreement among the 3 member guilds, Stone War was declared by the PGC. There are reports of various raids by members of the White Council, AOD, and the Fallen Lords. KGB members travelling along have been attacked.
White Council GuildMaster Chewy sent in the following message:
I declared war, the show is on the road, I have died 1 time (crashed), I
have killed many. Including your warlord (he was crashed).
But over all PGC has suffered way more casualties than us, I think we have
suffered 2 or 3 deaths, I cant count PGC casualties anymore.
I will let up because I feel that you realize I am a worthy advisory now.

P.S. The war has just begun, I still have not revealed all of my power.

ChewY, Gildmaster of the White Council
Initial combat reports show many of KGB's members have been caught by surprised and suffered heavy casualties. It seems KGB was caught unprepared for the carnage in the streets. Its time to regroup and follow the rules.
1) Contact other members and stay in Large Groups.
2) Get in the PGC IRC Chat and find out whats going on. (If you are unsure of how to get into the PGC IRC, contact GuildMaster JetStar for details)
3) Contact your Military commanders for instructions
4) Follow KGB wartime procedures listed on State of the KGB Page
---
GSS Minister Moe Resigns
Report by JetStar, GuildMaster
Long time KGB member and highly decorated Minister of the KGB GSS Moe resigned from his position and requested and was granted a Honorable Discharge at 12:01pm this morning. Moe ends a famed career with the KGB GSS and is one of few to receive KGB's second highest honor. Good Luck Moe, you will be missed...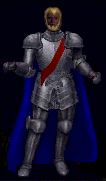 GSS Minister Moe
KGB Guild Secret Service Minister
KGB GSS Senior Agent
Awarded The KGB Silver Star on 16 February, 1998
Awarded The GuildMasters Golden Cross on 10 February, 1998
Awarded The GuildMasters Golden Cross on 16 March, 1998
Awarded The KGB Guild Service Medal of 16 March, 1998
Awarded The KGB High Council Medal of Valor 24 March, 1998
1 Quarter of Service
---
Arginal's Combat Competition a Success
Report by Arginal, KGB Treasurer
For weeks and weeks there was talk on the KGB BB about the Gathering and finally tonight to happened. Some could not make it but those who did have something to remember. A set of events involving one on one sparing, team sparing, and archery. For those who attended, they recalled to a nice spot south of Trinsic and the mainland on a secluded island. Then the sparing began. Spirits where high and aspirations even higher. The 1st round was quite quick and one thing was noticed from this round. My axe. It seemed to do mass amounts of damage yet it was not magical. I knew knew not it's true origin until Annul pointed out it seemed to be a old axe from be beginning. It did not, however, save me past the 2nd round. Many brave fighters stepped up, but only Moe and Sto stood in the final round. It was a heated battle and when the dust settled Moe stood victorious taking the victory of the one on one sparing. It was truly a sight to behold. Hands clappesed, congrats where given, and that ended the one on one. The next event was a oddity I must say. It did not go as I had thought it might. The first teams to fight where DarkGuard and I vs. Sto and Annul. We stood ready to give it our best and when the fighting began it ended in the same second. A hail of magic assaulted DarkGuard and I to our deaths. Truly a show a great power. The other teams fought bravely. Kat and Havok nicely carved into their opponents, with Kat armed with sword and shield with Havok on magic. Speedy and Moe also took a victory. Hacking away with Moe's halberd and Speedy's arrows, a path of blood was wrought to a victory. In the final around of Team Sparing a three way fight commenced. Thorn Wolfbane took Havoks place (On a case of lag daemons) and the three way battle began. It was bloody and slowly they started to fall. In the end Sto and Annul stood over a pile of bodies of their comrades. Congrats guys. By this time signs of war littered the arena. We cleaned up and then left on the last leg of the Gathering, the Archery contest. To Serpents Hold we went. Gathered on the roof of the warriors guild we began to practice until we got organized and began to tournament. Havok stepping up to the line fired of his allotted bolts into the target scoring a amazing 605!! I wondered at this be couldn't see how. Then DarkGaurds eye caught a finely crafted magical x-bow which gave Havok that extra Uff. :) So realizing he had a magic bow he traded in for a regular one and the contest was underway. Everyone shot like Yew rangers. Some the winds caught a blew off target. Some where blow right over the butte. The final round of this came down to ThornWolfbane, Phycho and I. The winds of the Gods moved Psycho's and my arrows (I swear!) but truly the winner was clear. Thorn Wolfbane took the contest without breaking a sweat. Also noted by Moe was the amount of times I perished. What's 4 deaths anyhow?
I hope for all that went that it was as fun for you as it was for me. For those who didn't make it who would have liked to, worry not my friends. Another will surly come about.
KGB forever!
-Arginal of the KGB

---
HEADLINES for June 17th, 1998
Fallen Lord's Break Treaty
The Fallen leave PGC with plans to declare war
Report by JetStar, GuildMaster
**FLASH** Just as this was article was being printed, KGB Intelligence reports a possible Alliance between Fallen Lords and Care Bears. Stay tuned for up to the minute information
KGB Intelligence uncovered plots by Fallen Lords GuildMaster Dracus to withdraw from the PGC and declare war on KGB. It appears Dracus and the Fallen have a special hate for the KGB. It appears that Lady Shadow Dancers credability was used to cement the PGC membership as a plan to buy time.
Dracus Wrote:
Try as I might its just not me to be Good
i am Evil Brother and the war that you wage is against many of my old friends
while you were killing Fallen Lords
they were saving us
And with FL neatly tucked away in PGC your path to Victory seems all to clear
Aye I intend To Break it................
Reactions.........
ExistenceByProxy, independent member of PGC:
You are wrong; it could have worked, you didnt even it give it a chance
You betrayed Shadow Dancer and
if you dont think that is true than ask her why she is carrying
KGB PGC guild title now.
You have SPIT on FK and Xlords who stood up on tippy toes for you
And you didnt know but I had my role in bringing FL into PGC too
You could have withdrawn and waited a week
Now you have no respect on the shard and have lost ALL credibility
You dont admit to a Treaty and then turn around and declare war without a damn good reason (and you have none)
I am amazed for all your talk of honor and so forth all worthless now
The only thing one has in the end in this game is HIS WORD and HIS SWORD.
A man is much stronger if others are influenced by both. Now you only have the sword.
Let me make it crystal clear: you are now my enemy.
I would plea to all who have a good opinion of Dracus to consider his actions and leave him and join PGC. Such treachery cannot go unpunished.
I would ask all of you who I like.. Kylus, Jubei, Zooted, Xan : what are you doing? Flee this man before he turns on you. I will take no pleasure in fighting you all.
No cursing here as always; man of words and his word:
ExistenceByProxy, independent member of PGC

GuildMaster JetStar:
KGB and the Fallen have been arch rivals for a long time. The reason was, that you and your guild murdered people for your own profit. When FK asked me if I could try to make a deal, out of respect for him I did. I yeilded my pride and honor, discounted my members advice that this was a trick, an oppertunity for you to buy time to complete your rebellion. I took your word, and I can now see I was a fool.
So be it Dracus, and you have brought the wraith of the PGC upon yourself. I am not the greatest fighter when it comes to arms, but I have many lives to give to see that your cause is stopped. In the name of FK you betrayed us, in the name of FK you betrayed the X-Lords. FK said to me, "Please make this work, as my last wish allow the Fallen into PGC." You betrayed him, and those who followed him and those who are true X-Lords will exact your pain....
Lady Flechette - HC X-Lords [PGC]:
I don't know the whole story, but I am catchign bits and peices. I am shocked and saddened by what I hear. I always held out a lot of respect for you Dracus. Now these talks of betrayal have forced me to reform my opinion of you.
I understand your evil ways, and I can understand the hate you had for KGB. What I don't understand is how you could breech the trust of the many here who once called you friend. You could have stepped back and never took the interest in the PGC.
Well, I guess you have acheived your goal of evil. You have ruined your credibility with everyone involved. I am not sure what happened to Lady Shadow Dancer, but I DO want her to know that if she needs someone to talk to, I am VERY available to talk with her. I held thesame respect for her as I held for you.
I am not sure how your fellow FL are reacting, but I hope they all seen how you stabbed many friends in the back. I hope they feel a little bit more leary now and are fearing a stab in the back by them. You choose to side with this rebellion thing. You speak of being 'the true evil on UO', then you go and set yourself up to join forces with exploiters and cheaters. Those guys are NOT evil. They are what we term 'losers'. Now you are grouped with people that would not even be missed if they disappeared off face of Britannia.
I don't know what else to say. I am personally shocked and hurt pretty bad by this whole mess. I feel like I was personally betrayed. I pushed so hard to get FL & KGB to put differences aside. I know FK did too, but I still feel responsible for that meeting taking place. I was so happy that day. Now today I feel like I had a big part in all this happening.
I am sure being evil you could care less what one lady thinks. But know you tore a little peice of my heart out with your recent actions. Redemption for everyone will be handed out on the feild of battle. Thanks for all the feeling and emotions you have stirred up in me. I need all the turmoil & hurt I can find.
Depressed & disheartened,
Flechette - HC X-Lords [PGC]
Xian X-Lords [PGC]:
Dracus -
I can not believe you didnt even try to talk about this! AOD declared war on the PGC, which means they also declared war on FL and this is how you treat your allies! You have spoken so much of honor but now we find out you NONE! I know a lot people in FL and I encourage all of you to leave FL or get rid of Dracus, this man has no honor and his word can not be trusted. Xan, Zooted, Jube I know you all to be good guys and Im sorry to see you stuck in this situation but how can you stand behind Dracus? You know any of you are welcome, I know you to be honest and full of honor unlike Dracus.
Dracus You have proven to all your word means nothing. You have lied and betrayed us all, even your own guildmembers and what you did to Shadow is unforgivable.
Xian
---
PGC Members join one GuildStone
Report by JetStar, GuildMaster
Today all PGC members resigned from their GuildStones and joined the new PGC GuildStone. Now our enemies must take on the entire PGC instead of singling out our member guilds. For those of you that wish to challenge the PGC, just declare war on the PGC listing, and prepare to be defeated.
---
Former KGB GuildMaster Drek returns from retirement
Report by JetStar, GuildMaster
Based on his Honorable Discharge from the KGB on March 11th, 1998. Former KGB GuildMaster has chosen to rejoin the KGB as a fully active member. Drek joined the KGB under GuildMaster JetStar in May of 1997 and is one of the original Tanarus members. Drek quickly rose to 2nd in command of the Tanarus KGB. When the KGB came here from Tanarus, Drek assumed Co-GuildMaster status. GuildMaster JetStar said this, "Drek is a true warrior at heart, as long as there is a war to be fought, he is more than satisfied. He is one of the toughest fighters I have met, he hates politics and is very emotional. For those of you who know me, you know I'm the politician type. We made a great match. Problems started to come up about how each one of us interpreted the virtues. The Guild split and Drek has since been on his own.".
Drek made a come back attempt in March but eventually retired to pursue his interests with the Dragon Knights guild. He most recently retired from Britannia, but was persuaded to come back. Please join me in saying "Welcome Back Drek" to one of KGB's oldest members.
---
GuildWar Highlights
Report by JetStar, GuildMaster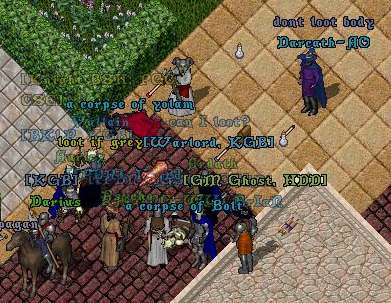 Choas in the cities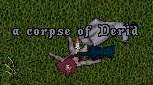 AOD GuildMaster Derid dies honorably in combat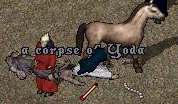 Care Bears GuildMaster feels the power of the PGC
---
HEADLINES for June 15th, 1998
The Resistance Surrenders
Report by JetStar, GuildMaster
GuildMaster JetStar and Brother Annul kept Cry for Dawn on the run until CFD informed me he was ending the conflict. Congratulations KGB on our first WAR victory!
---
On the Battle Field with KGB
One last hunt before the Patch, Wulf becomes a Paladin
Report by Brother Raging Wulf, Paladin
It was a warm spring evening. The breeze coming in from the west cooled the Lords and Ladies that stood waiting in full battle attire. The time for the great hunt was upon them, and within the air all about, a sense of vigor could be felt. Friends and allies alike gathered at the designated meeting place. A last check of their equipment was done and all was made ready. The word went out and before their very eyes, a glowing blue gate stood ready to take them to their chosen place. Another gate appeared and one more after that.
The call went out and all present proceeded into the gates to the designated hunting grounds. Within a blink of an eye, all the warriors appeared at the Chaos Shrine, a known hang out place for the evil vermin that haunt our wondrous lands. The warriors gathered at the base of the Shrine, awaiting their chance to test their skill at arms and show their prowess in battle. They did not have to wait long, for from the south approached two of the evil foes that they had been waiting for. As one the group moved out to intercept the incoming enemies, the air filled with the sound of battle and the magical energies could be felt by all those in the area. In no time at all, Evil Lady QueenX and Evil Lord Deebot TheGeek were slain in battle with no loses reported on our side. With the victory in hand the group headed back to the Chaos Shrine.
Other bands of warriors could be seen engaged in battle with the evil denizens that inhabit the area. As we approached the Shrine, we witnessed a cowardly act being conducted by unknown people. There were several people, not of our band, milling about the Shrine and some of them were killing the newly rezed. This is an act that we do not condone and none of are band was involved in this senseless slaying. General Rahl, realizing what was going on, called for an immediate withdrawal of all are troops. The glow of the magical blue gates could be seen once more and all entered returning to the original starting point.
Many were appalled with what happened at the Shrine, that people of virtue would stoop to the level to slay someone who is totally defenseless. Once order was brought about our band, we decided where would be best to go next on are hunt. It was decided that a dungeon would be our next stop. So all was made ready. Just as we were about to depart, JetStar, the guildmaster of KGB, joined us on are hunt and together we made are way to the famed dungeon known as Deceit.
We gathered in a room in the lower levels of the dungeon. We proceeded with greater care, knowing that not only would we encounter the evil Lords and Ladies, but also, some of the vilest monsters known to roam the lands. Fanning out in small groups, we started are trek to the upper levels of the dungeon. On are way up, the lead group came apon one of the most feared monsters to walk are lands, a Lich. JetStar, who was in the van-guard, was the first to feel the wrath of this foul creature. The Lich struck first, dealing out some of it's most potent magic. Spell after spell went off, and before anyone could give aid to Jetstar, he fell to the fury of the Lich. The band, now all within the room, fell on the Lich like a raging storm. It was quickly annihilated with no further losses. JetStar was resurrected then healed. With his belongings returned to him, he re-equipped himself and we continued on are way.
We encountered several other monsters that were lurking in the bowels of the dungeon, but they quickly fell to the onslaught of the band. Onwards we traveled, going from room to room, level by level, destroying all that was vile with no further losses. After a time , we encountered other warriors that were seeking fame and fortune of their own. We parleyed with them briefly, seeking any knowledge that they had of any murderers that might be in the area. They knew of none, so we said are farewells and continued on are way.
Chaos struck us upon entering our next room. We had traveled through a magical portal that brought us to the fabled skeleton knight room. All about us were warriors of all types doing battle with the wicked undead monsters known as Bone Knights. Without a word being spoken the band rushed into the fray to give aid to those that were hard pressed. Within a short period of time, the brave and courageous warriors slew all of the undead knights, with only minimal losses.
While members of the band were helping those that had fallen in the battle, a call went out that a member of the Care Bears, a sworn enemy of the KGB, had been spotted. Quickly the troops rallied together, and proceeded to the area. Other warriors were milling about making it hard for us to pursue. Some got through and gave chase, while the rest of us did our best to catch up.
General Rahl and I, who happened to be in the back during the time of the call, were the last to exit the Bone Knight room. We came around the corner, and to are horror we witnessed the second fall of Guild Master JetStar. He was not slain by one of the evil villains that we were hunting, but by one who dared to call himself a Great Lord. Cyric was his name, and he took full advantage of the fact that our Guild Master was perceived to be dishonorable due to an unfortunate accident that had occurred a while back. In another cowardly act, Cyric also slew JetStar's trustworthy steed. I immediately gave the order to attack, knowing full well that I risked my noble standing in society. General Rahl and myself attacked with a vengeance. In no time at all Cyric was critically injured. Realizing that he was in peril of dying, he fled from the area. We gave chase, but were hampered by the warriors standing around trying to figure out what was going on. This gave Cyric time to heal himself, and when we fell upon him once more the battle was begun anew.
The chase had taken us back through the teleporter that had brought us up to the Bone Knight room. The battled raged on through the corridors, with Rahl and myself dogging Cyric's every step. Other warriors, that happened to be in the corridor at the time, were questioning why two good standing brethren were battling against another. Not knowing are cause for the fight, these warriors gave aid to Cyric in the means of magical healing. Seeing this, Rahl yelled out that he had killed our Guild Master and that we were seeking vengeance, but still, they gave aid to Cyric. Knowing that we were fighting a losing battle, we withdrew from the fight and returned to the tragic area.
When we got back, we found that JetStar had been resurrected, and the other members of the band were about. General Rahl informed Jet that we failed to avenge him due to interference from other fighters. We vowed to Jet, that one day, this wrong done to him will be avenged, and that this miscreant will be served the righteous punishment owed to him. At this point, I decided that it was time to call it a night. With the loss of my Great Lord status, General Rahl's Lordly ranking, and the wrong dealt to Jet, I didn't want to run the risk of anything else going wrong. All was made ready, the magical gates were summoned up and we returned home.
Now, for reasons unknown, during the gate travel, JetStar suffered what we call "time warp". He found himself back at the original departure place alive and well and astride his noble steed. I was also later informed that the Care Bear member, that was seen in the dungeon, was caught and slain by the valiant warriors. So, I can at least say that some good came of this hunt.
It is time for me to move on now, for I have resigned from my duties as Knight Commander of the Crimson Knights, and joined the ranks of the Paladins. General Rahl, I have this to say to you. It was the utmost honor to have served as your commander. I look forward to when again we may fight side by side in battle, knowing full well that I can trust you with my life, and that you would give yours to save mine, as I would do the same for you. Take care my friend and may all that is righteous in this world bless you with all of it's glory.
Honour Above All,
Raging Wulf
Paladin.
Assisting our PGC Brothers
Report by Brother Psycho, Paladin
The night started out for the most part at the Csky stone where Xlords and some KGB where being added to their stone so that we could aid them in their war against the Carebears and CD. Before the mass join by us the csky was getting hurt badly due to being out numbered. I would approximate that about 8 Xlords joined and 3 KGB joined (myself, drekken and auriex) stoney and aror joined later on. Now we had a true PGC guild going. We mounted our first attack and hit deciet immediately. It was a mess to say the least. The core of the battle took place at the bridge on level 2 and that does not give allot of room for fighting. Myself, Xian of xlords and Aureix charged accross the bridge to force an opening. it worked but in the process Auriex died and was looted by the enemy. We pressed on determined to kill all enemies. After many spells cracked through the air and arrows where littered everywhere we finally found ourselves victorious. Then as we started to relax I was struck down by an innocent from the crowd, a most foul villain named Scotty. He had no reason to do it other than "I hear KGB kill newly resed and I don't approve." I personally have never killed a newly resed yet, unless they are thieves trying to steal from me over and over. I think over all in that battle we had few casualties and gained many runes to carebear bases. After getting resurrected and rearmed, I was lucky only the loser mr. nice guy looted me for my regs, we returned to the bank. Xian was very good in helping me out, everyone was caught off guard by this random murder committed by Scotty.
Now back at the bank we suddenly found ourselves under attack by CD, this we found amusing because of their hit once and run like hell tactics. This was more of an amusing chase than anything. We drove them off without any problems what so ever. The night went on and on like this, battle after battle. the united PGC proved that we would not let any branch suffer period. We united and crushed the opposition with resounding success.
---
HEADLINES for June 14th, 1998
KGB Responds to Enemy Calls for GuildStone War
Report by JetStar, GuildMaster
GuildMaster JetStar declared war on the following guild today after they first request GuildStone War with our PGC allies and the KGB itself.
A State of WAR exists between the KGB and
The Resistance
GuildMaster: Cry for Dawn
Bounty: The KGB Distinguished Service Cross
Documented kills against any member of The Resistance count toward your order credit. KGB Members and officers are here by authorized to destroy and and all Members of this Guild, regardless of their Notoriety or Claims.
A State of WAR exists between the KGB and
The Care Bears
GuildMaster: Yoda
Bounty: The KGB Distinguished Service Cross
Documented kills against any member of The Care Bears count toward your order credit. KGB Members and officers are here by authorized to destroy and and all Members of this Guild, regardless of their Notoriety or Claims.
A State of WAR exists between the KGB and
CD
GuildMaster: Unknown
Bounty: The KGB Distinguished Service Cross
Documented kills against any member of CD count toward your order credit. KGB Members and officers are here by authorized to destroy and and all Members of this Guild, regardless of their Notoriety or Claims.
A State of WAR exists between the KGB and
The Angels of Disease
GuildMaster: Derid
Bounty: The KGB Distinguished Service Cross
Documented kills against any member of The Angels of Disease count toward your order credit. KGB Members and officers are here by authorized to destroy and and all Members of this Guild, regardless of their Notoriety or Claims.
---
HEADLINES for June 10th, 1998
*BREAKING NEWS!*
OSI responded to my mail today! It seems OSI thought the situation was resolved because Speedies property was replaced. I am in the process of exchanging E-Mail with GM Wile_E and GM Ironwill. STAY TUNED FOR DETAILS
KGB's requests for assistance ignored by OSI
Requests for information and assistance regarding the Counselor "Nether" incident ignored
Report by JetStar, GuildMaster
I would ask you all to read the detailed account I have provided below and speak up about your opinion. I will be forwarding all responses to OSI as part of a petition to force them to take action. Please E-Mail your opinions with you UO character name and home shard by clicking >>HERE<< or sending to daniel67@ix.netcom.com
Thank you all for reviewing this and for providing me with your opinions.

The Counselor Nether Incident
At about 3:00 a.m. (Saturday morning, June 6th) I received a call from Speedy of KGB, he said a Hacked Counselor had thrown him in Jail. We sent several ICQ messages back and forth about what was happening. I was shocked and in a state of disbelief. This was obviously after GM hours, so on page three of the HELP button, there is way to page a Counselor. When asked for the description I used, "HACKED COUNSELOR, please help". I was safe in my tower, with doors locked. I must admit I am ignorant about the powers that a Counselor possesses. in less than five minutes the very Counselor that I was warned about appeared in the second floor GuildStone room in my tower. My stomach immediately knotted up as I knew I was in trouble now. The counselor attempted to appear many times, each of these times I attempted to greet him formally as my journal shows:
You see: Counselor Nether
JetStar of KGB: hello
JetStar of KGB: Sie
JetStar of KGB: Sir
Nether: hello
Nether: KGP
JetStar of KGB: One of my guild members
You see: Counselor Nether
JetStar of KGB: hello
You see: Counselor Nether
JetStar of KGB: Sir?
Nether: I crashed
JetStar of KGB: are you there
JetStar of KGB: Oh I see
You see: Counselor Nether
JetStar of KGB: hello?
You see: Counselor Nether
JetStar of KGB: Hello?
You see: Counselor Nether
JetStar of KGB: I keep losing you
You see: Counselor Nether
JetStar of KGB: Hello?
You see: Counselor Nether
JetStar of KGB: Hello
Counselor Nether is transferring you to jail
When he finally appeared he walked right on top of me and we both disappeared. I immediately appeared in what I have heard of as Jail. I looked around to see in the cell to the south of me was my GuildMate Speedy of KGB in combat with Hakim of DIE. Hakim had stolen Speedies keys from him while in jail.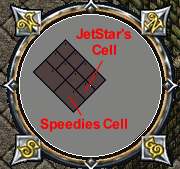 Counselor Nether went on to say: (quoted from actual Journal)
Nether: Suffer the wrath of Crash Overrid, hacked Counselor
You see: Counselor Nether
JetStar of KGB: You have hidden yourself well.
Not knowing if Nether could detect hidden or not I immediately hid. I looked in the cell to the north and saw Counselor Nether's death squad murdering innocents. you can see in the picture below, the two dressed in Black dresses and red sashes. I am hidden in the cell to the south. You can clearly see Nether witnessing the entire thing and the ghosts of the slaughtered begging in vain for the Counselor to stop the looting.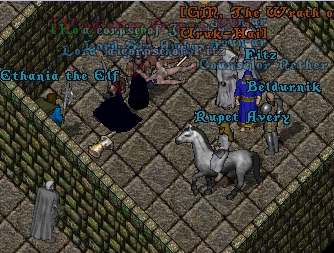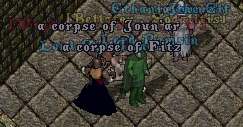 I began to realize this was a set up. After the two had killed and looted several in the northern cell the Counselor and the two killers began to bow to each other over and over. Still hidden in the cell to the south, I used my All Names macro and was taking screen shots over and over. I identified the murderers as:

Nightrunner: [Holy Knight, PV]

Sir Amherst: [Vindicator Primus, PV]
I spend most of my time watching this take place in the northern cell. In the southern cell Speedy of KGB was in a fight for his life and his equipment. Hakim of DIE had already stolen his keys and was now trying to kill Speedy for the rest of his equipment. Both Speedy and myself were safely (or so we thought) and carrying a full batch of Guild keys. I was carrying the Master KGB set. After things calmed down in the northern cell, Counselor Nether showed up in my cell again to say:


I knew this was a trap! He wanted to put me in a cell with his PV henchman so they could kill me and loot me. I refused and hid. less than 20 seconds later I crashed. It took me several attempts to get back in, I would say about 4 minutes total before I back in the game. I checked my pack, and my keys, runes, and reagents were missing, taken or stolen somehow while I was crashed. I WAS FURIOUS! I was contacting everyone on my ICQ list begging for help. I have many friends in the game and sent repeated spam to them all (Sorry friends, I was desperate). Apparently my cries for help were heard by many. The editor of UOVailt, Counselors from other shards, and many others.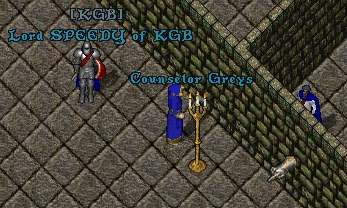 By 6:30 am Counselor Greys arrived. The PV murderers and Counselor Nether had long since gone. The counselors were very vague about what would be done, I was given contact information for two GM's and and returned to Nujelm. At this point the KGB master key set, my master rune set, and about 80 to 100 of each reagent were missing.
The Aftermath And My Request For Assistance.
At about 11:30 a.m. I awoke and wrote my account of the incident. I mailed this account to GM Ironwill. See this account in the June 6th KGB Sentinel Article "Hacked GM Trashes KGB" below. I waited for hours and received no response. I then sent this:
Saturday, June 06, 1998 2:24 PM
TO: GM Ironwill
I would like to know what you intend to do to rectify the situation as far as my keys, runes and reagents are concerned. Please contact me when you can.
Later that evening, I received the following reply:
Saturday, June 06, 1998 7:49 PM
To: JetStar
I apologize that the counselor did that to so many players, including yourself. We took no time at all in permanently banning ex-counselor Nether. Apparently he was trying to get at us for something; he paid for his ignorant actions. GM Wile_E has talked to many members of the guild and everything has been settled. If there is anything else my email address is open.
GM Iron Will
If you read this reply, it states that GM Wile_e talked to many members of our guild? Not true. I was never spoken too. I have had zero contact with a Counselor or GM since the incident and the above letter. Nothing was settled, and if it was, I was not a party to it. I responded with the following reply later that evening, I received the following reply:
Saturday, June 06, 1998 8:46 PM
To: GM Ironwill
My Keys, Runes and reagents were taken by the counselor and his friends.

I deserve justice..
JetStar
KGB GuildMaster
I waited and waited for a response. There was none. I decided to contact was was described to me as a Lead Game Master. His name is Beast. I sent the following letter to him:
Monday, June 08, 1998 11:06 AM
TO: GM Beast
Hello Sir, I wont bore you with the details as I am sure you have heard them and seen my account of the Nether incident I sent to GM Ironwill. I did send in many screen shots and my journal for his review. I run the Knights of Glory and Beer Guild on Pacific (KGB), we are strict anti-pk, anti-cheat, anti-abuser, and pro-role players. We spend most of our time in the game hunting and making life difficult for those who would make UO a bad experience. I do enjoy your virtual world and spend many hours each playing despite being a 31 year old professional. I must say that this experience has been most disturbing and I would ask that you and your company attempt to make it right. As I stated in written account of the incident, I had my master key set in my possession when I called a Counselor to help a fellow guildmate who had been wronged by Counselor Nether. Nether answered my call and removed me from our guild tower and placed me in jail. I was crashed soon after and upon returning my master key set, my master rune set, and my reagents were missing. Im not asking for a hand out, but I feel you as the "Gods" of this world should make it right when one of your own wrongs innocents such as my guild and myself. After asking the staff that dealt with this over and over, I was put off and my questions were never answered. When asked if anything would be done about this incident, I was asked where I wished to go. Upon answering that question I was transferred to Nujelm and left there. I was then sent a "generic" apology for what happened and sent a reply to Ironwill asking if there would be anything done about this. My reply was ignored. Speedy (A younger guildmate) called a GM on Sunday waiting for 4 hours for a response he never got, as he was robbed of his keys also in jail and had to watch as someone used his keys to open his house and loot it right in front of him. He called a Counselor in my presence and when he arrived Speedy was very upset, I asked Speedy to calm down and asked the Counselor for contact information of someone who is in charge. This is how I contacted you. I would simply like an answer if you as "Gods" intend to make this situation right. I have spent literally thousands of hours in this game at this point, earning money, and so have my guildmates. I have also been very careful with the keys to our buildings. To have these lost by a disgruntled Counselor is simply not fair. I formally ask for you assistance in the name of justice and fair play sir. I await your reply and thank you for your attention JetStar KGB GuildMaster and Co-Chairman of the Pacific Guild Coalition
I waited another 24 hours and then sent the following:
Tuesday, June 09, 1998 11:35 AM
TO: GM Beast
Dear Sirs, I have attempted to contact you via E-Mail, paging a GM in game, and through counselors. I still have had no official response from you (GM Beast) or Ironwill. It has come to my attention that the players with Speedies and my sets of keys are still in the game and plan to use them. I keep a network of intelligence ghosts that have overheard their plans to raid our towers. I would hope that I would at least receive a response from you or Ironwill. Am I sending mail to the wrong address perhaps? Please respond, JetStar
It has now become obvious that my Guild and I are to be ignored. This is not the case. I have become very upset and after supporting OSI and it's UO effort my mind is rapidly changing. Perhaps all those who say OSI does not care, or the ones who make the cartoons are correct.
---
AWARDS
KGB Members and Officers recognized for exemplary service to the Guild
Please note! There are some of you that may be expecting awards that have not been published. Please E-Mail your requests only! ICQ's get overlooked too easy! E-Mail Please!
First Prime Ministers Golden Crosses Awarded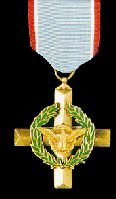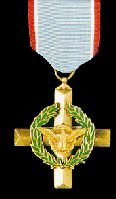 The KGB Prime Ministers Golden Cross
This Medal is bestowed on an individual by the Prime Minister. It is a way for him to recognize individuals for exemplary service to him and to the Guild.
Randal Floyd, Foreign Minister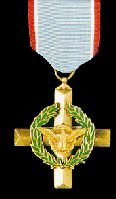 For your excellent service to the guild and as recognition for your accomplishments with the PGC, I award you the PM medal.

Coake, Squire Captain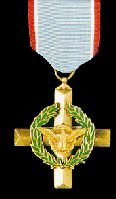 For your months of service to the guild (as seen in the form of numerous posts and proposals), and for excellent role playing I award you the PM medal.

Brother Annul, Paladin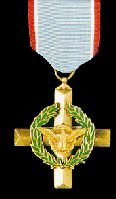 For countless acts of service to myself and the guild I award you the PM medal.

Katrina, High Council Chairperson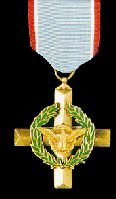 For your service to the guild in countless methods and for providing and servicing our major means of communication (message board, and for an incredible role playing ability I award you the PM medal

General Helmholtz, Councilman
KGB 1st Infantry Division (The Black Knights) Commander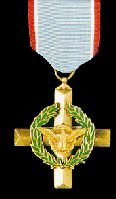 For your service to the guild and to your ability as a role player I award you the PM medal.

Brother Sto, Paladin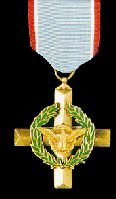 For your service to the guild and countless hours of play and service to myself and Jet, I award you the PM medal (and yes I still want that armor :) ).

Congradulations to the first round of PM medal receipents, I hold the highest respect for each of you *Bows*. Continue to provide the highest levels of service to our tremendous guild. I thank thee for your attention in this matter.

Prime Minister of KGB
Thorn Wolfbane

---
HEADLINES for June 7th, 1998
X-Lords GuildMaster FK Leaves our World
Report by JetStar, GuildMaster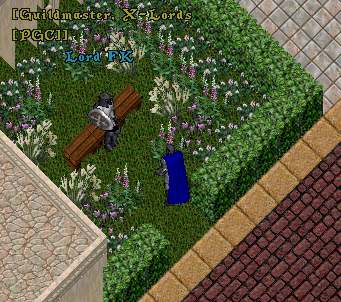 KGB GuildMaster JetStar pays his final respects to X-Lords GuildMaster FK. JetStar said, "After formally saying my good byes in message form, I was on my way back to KGB HeadQuarters when I saw FK sitting in front of the Nujelm Inn. He sat proudly on the bench with his eyes closed. I chose not to disturb him. I stood at attention and saluted him. If you see him sitting there today, I would advise you all to do the same. " FK left his resignation letter on the X-Lords message board. It has been reproduced below:
Greetings Allies, Friends and yes even foes.
The time has come for me to depart the virtual world of Ultima Online. Due to real life considerations, I am left with little choice but to "retire" from the game.
I have been involved with UO since Phase 2 of the beta test, geez how do I describe that....."A long, long time ago, in a galaxy far far away" laugh. From the days of GM Donner running around with that stupid deer hat on, and the massive deamon destruction of the "beta shard" to today. That's a long time for one game, especially one with flaws such as this. Even with the flaws, I have had one hell of a time! I mean I have fond memories of a computer game for christ sakes!!! For instance: in the beta, I forget his name, but the player that killed Lord British with a firewall, and when some of my guild were stranded in Deciet and were recued by Lord Blackthorne himself who also gave one of our members a Chaos shield personally, when UO was released and some of us paid 100 bucks for the "charter edition" (boy did we get screwed on that!), who can forget the epic battles with Hobbes and Rand, the GM's infamous saying "I am sorry but I cannot help you with that", the huge let down of the grand opening of Wind (I mean whoever goes there now?), patch after patch after patch. I will give this to Origin, UO is an ever evolving world (-:
Anyway, I have been here since the begining, I have known ALOT and I mean ALOT of players. Some of you people I will surely miss. And you guys and gals know who you are. The ones who make the game interesting, fun to play who go the extra mile to help their fellow players. You guys deserve one hell of a clap on the back, and if I could I would give it to ya. All I can say is keep the faith and keep up the good work. I wish you all the best in this, and every game you play.
To the lamers. I wont even waste my time typing what I think of you and where I think you can go. I will say this though. You should really begin to grow up and begin to respect others and treat people as you wish to be treated. Until that time comes, I wish you all the worst that can ever happen in UO AND in real life, your kind disgusts me.
All I can say is that my time in UO has been a blast. Not only the game play but the whole virtual world that has sprung up around it. This "world" reaches far beyond the bounds of the UO servers for those who have not yet realized this. If you have not yet done so, jump on a UO web ring and take an afternoon to go visit and READ some of the web sites out there, just incredible.
Well, the time has come. I can honestly say that I have made some friends in UO, some people I have met have real class. I shall miss UO and all of you. I sincerely wish everyone the best (those who deserve it) and continued success in this marvelous game called Ultima Online.
PS: I will continue my prayers to the bug god for all of you out there in hopes that their presence shall be removed from the game (-:
Take care and the best of luck!!
First Knight (FK)
Guildmaster, X-Lords
Co-Chairman, Pacific Guild Coalition
Retired
WindRider and Lordian will take over for FK as Co-GuildMasters in my absence, and Irianna will be Asst Guildmaster. I hope we can continue our long relationship with the X-Lords and wish the new GM's the best in their new positions.
---
HEADLINES for June 6th, 1998
Hacked Counselor Trashes KGB!
Report by JetStar, GuildMaster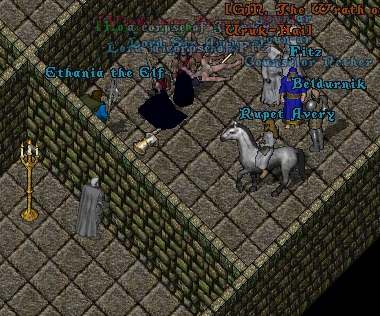 As a honest, Anti-PK, Bug Free, GuildMaster and UO player, I never thought I would see the day where I would be placed in Jail. Let me tell you the story of the nightmare that was hacked Counselor Neither. I run the Knights of Glory and Beer Guild on the Pacific Shard (KGB).
At about 3:00 am I received a call from Speedy of KGB, he said a Hacked Counselor had thrown him in Jail. Here is his account.
JAILED!!!!!!!!!!!!!!!!!!!!!!!!!!!!! The long and lonely hours of being in jail.I was sitting in my tower trying to think of how to catch the YDF looter when it dawned on me why not call a Counselor,and see if it is possible to change the locks on my Tower.so I call a counselor and one comes.The counselors name was Counselor Nether he says you just paged the wrong counselor WELCOME TO HELL!!!!!!! I didn't know what to do he said he was Crash Overide, and he hacked counselor nethers account.Then he ran upstairs yelling and screaming so I didn't know what to do but ev(like a dummy there invulnerable).then he says big mistake and puts me in jail all I did was page a counselor on changing the locks on my tower ,and I get put in jail.So there I was sitting in jail when all of a sudden a guy named Dark Lord Hakim starts snooping my bag.I was very lagged at this point ,and he stole my Keys then stole all my runes which go to all my house's and to my tower.He is the Guildmaster of DIE and I attacked him I beat him very badly but he must be a GM hider because he was able to hide very well then some how all others where able to be taken away and it was justme and him so he came out of hideing I attacked I rocked him good he had 2 hit points let since there is no spell casting in this jail it was nothing but what I live for straight combat tactic's he couldn't heal and neither could I he got me down to 18 hit points when he got to 2 hit points he hide I kept trying to detect hidden him but there was no use my skill was to low.He logged out in the jail while hidden now I don't know what will happen.to be continued....

As soon as I heard this I called for a Counselor myself. I was sitting in our tower, safe or so I thought. GM's are not available at that hour so I described my request "HACKED COUNSELOR Please Help". Soon Counselor Nether appeared but could not seem to stay on the screen (Seemed to be new at this). Here are the actual events from my Journal....


We are sorry, but currently a GM is unavailable to answer your call. Our in-game support hours are 2:00pm-12:00am CST, although we are monitoring the servers for problems during these off peak times. Please try again during these times.
Help request aborted.
We are sorry, but currently a GM is unavailable to answer your call. Our in-game support hours are 2:00pm-12:00am CST, although we are monitoring the servers for problems during these off peak times. Please try again during these times.
You see: a table
Help request aborted.
Please enter a description of your problem:
You see: a stone wall
Your help request has been entered.
The next available game master will respond as soon as possible.
You see: a wooden wall
JetStar of KGB: That is locked, but is usable from the inside.
You see: stone pavers
You see: Counselor Nether
JetStar of KGB: hello
JetStar of KGB: Sie
JetStar of KGB: Sir
Nether: hello
Nether: KGP
JetStar of KGB: One of my guild members
You see: Counselor Nether
JetStar of KGB: hello
You see: Counselor Nether
JetStar of KGB: Sir?
Nether: I crashed
JetStar of KGB: are you there
JetStar of KGB: Oh I see
You see: Counselor Nether
JetStar of KGB: hello?
You see: Counselor Nether
JetStar of KGB: Hello?
You see: Counselor Nether
JetStar of KGB: I keep losing you
You see: Counselor Nether
JetStar of KGB: Hello?
You see: Counselor Nether
JetStar of KGB: Hello
Counselor Nether is transfering you to jail8
You see: Counselor Nether
You see: Ethania the Elf
JetStar of KGB: hello?
You see: Ethania the Elf
SPEEDY of KGB: [KGB]
You see: Lord SPEEDY of KGB
You see: Ethania the Elf
Nether: Suffer the wrath of Crash Overrid, hacked Counselor
You see: Counselor Nether
JetStar of KGB: You have hidden yourself well.
You see: Ethania the Elf
SPEEDY of KGB: [KGB]
You see: Lord SPEEDY of KGB
Nightrunner: [Holy Knight, PV]
You see: Lord Nightrunner
Fitz: [GM, The Wrath of Uruk-Hai]
You see: Fitz
You see: Counselor Nether
You see: Ethania the Elf
Hakim: [Guildmaster, DIE]
You see: Lord Hakim
Hakim: [Guildmaster, DIE]
You see: Lord Nightrunner
You see: Ethania the Elf
Hakim: [Guildmaster, DIE]
You see: Lord Hakim
You see: Counselor Nether
You see: Ethania the Elf
Nightrunner: [Holy Knight, PV]
You see: Lord Nightrunner
You see: Ethania the Elf
You see: Counselor Nether
You see: Counselor Nether
You see: Counselor Nether
You see: Ethania the Elf
Hakim: [Guildmaster, DIE]
You see: Lord Hakim
SPEEDY of KGB: [KGB]
You see: Lord SPEEDY of KGB
Hakim: [Guildmaster, DIE]
You see: Lord Hakim
SPEEDY of KGB: [KGB]
You see: Lord SPEEDY of KGB
You see: Ethania the Elf
SPEEDY of KGB: [KGB]
You see: Lord SPEEDY of KGB
Sir Amherst: [Vindicator Primus, PV]
You see: Lord Sir Amherst
You see: Counselor Nether

As you can see above, I was placed in a cell. Lucky for me, Counselor Nether could not get me in the cell next to the one I was in. He kept adding people to the Cell (I guess everyone who called for a counselor). I watched Hakim: [Guildmaster, DIE] kill my guild mate in the cell below me, then loot his runes and keys. In the next cell over, Nether brought in Nightrunner: [Holy Knight, PV], and Sir Amherst: [Vindicator Primus, PV] they began to kill everyone in the cell, right in front of Nether. I assume they looted them, as I saw them being striped naked. Mean while I was alerting my entire collection of UO players from all shards via ICQ. I asked them to contact a GM anyway they could as I was carrying my own Master Key set for the KGB guild. After crashing and reloading UO (unknown why I was kicked out) I searched my pack to find my runes and keys gone also. I WAS VERY UPSET TO SAY THE LEAST! I began to beg my friends for help. Members of the Sodalitis Guild surrounded our tower and watched it for looters. I would like to publicly thank them for helping. Soon Counselor Greys was on the scene. Just as he appeared, the PV guild members and Counselor Nether disappeared? (Hmmm). Speedy was very upset and I attempted to calm him as he was ready to quit UO once and for all. Greys came in and I explained everything to him and some off duty counselors he brought with him. I was released to Nujelm where I was gated to our tower to defend it. The server crashed minutes after I arrived. I was very happy, thinking that OSI was going to time warp us back before this happened. This was not the case, as it was about 6:30am and I was exhausted. I awoke at about 11:00 am to find myself still in jail, and my keys and runes missing as before. I am sending this to GM Ironwill in hopes they can discover how I was robbed and make sure that those responsible for this pay the price. I must say, this is outrageous! I have included several screen shots of my experience in jail.

JetStar
GuildMaster KGB
http://www.got.net/~daniel67/uokgb.htm
HEADLINES for June 4th, 1998
Brother Annul reaches 200
Report by JetStar, GuildMaster
KGB's leading ace, Annul scores his 200th documented kill against the Evil of our land. Annul continues to break new ground in the are of upholding the purpose of the KGB. Again, congratulations to Brother Annul.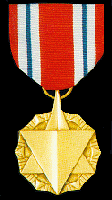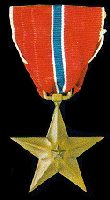 ---
The KGB Sentinel needs you
Report by JetStar, GuildMaster
Members and non-members are encouraged to write in about their experiences and important evens and items for publishing here. GuildMaster JetStar does about 99% of the articles and needs help. Send in your article today.
---
HEADLINES for June 1st, 1998
KGB's most experienced officer retires with honor
Xerxes retires after a year with KGB
Report by JetStar, GuildMaster
Xerxes informed GuildMaster JetStar today that his time in Britannia is over. Xerxes leaves the KGB with a proud record and with almost exactly a year of membership. Xerxes has offered to join us in the next virtual world that KGB intends to cleanse. I hope you will all join me in wishing Xerxes good luck and thank him for his unmatched year of service consecutive.
---
AWARDS
KGB Members and Officers recognized for exemplary service to the Guild
Please note! There are some of you that may be expecting awards that have not been published. Please E-Mail your requests only! ICQ's get overlooked too easy! E-Mail Please!
Ardath, KGB Warlord
KGB Army Commander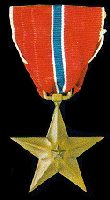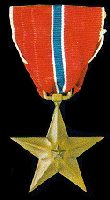 Order of the KGB Award
Brother Annul, Paladin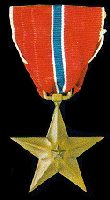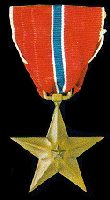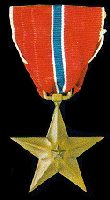 Order of the KGB Award
Brother Stoney, Paladin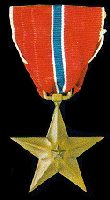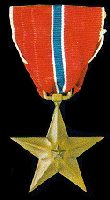 Order of the KGB Award
Brother Psycho, Paladin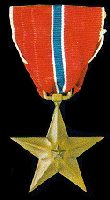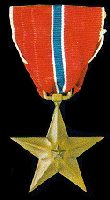 Order of the KGB Award
Brother Havok, Paladin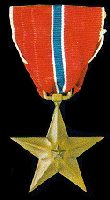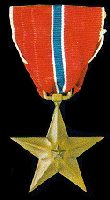 Order of the KGB Award
Ebon, GSS Agent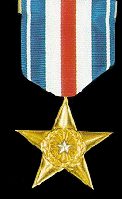 KGB Silver Star

Promotion
---