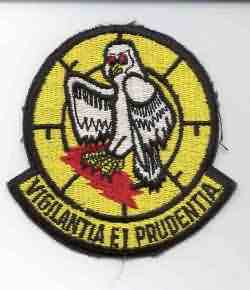 The patch of the 682nd RADAR Squadron, Almaden Air Station, CA.

This picture is from The Online Air Defense Radar Museum
Gallery 7 - Pictures of the former Almaden Air Force Station
Sounds
As the AN/FPS-24's antenna would rotate in your direction, it would interfere with the radio. I remember hearing this for a long time before making the connection to the RADAR. Fortunately, a visitor to this page had a recording of the interference! He kindly digitized it for me and allowed me to present it here.

There are a few more clips that I'll add soon.
Thanks to Dave at http://www.davee.com!

---